Here at Rainbow Beach 4X4 Hire, we always love to JAM PACK your itinerary with as much as possible while working with the tides on Fraser Island to make sure you get the most out of your hire!  So whether your there for 2 days or 10, here are our TOP TEN MUST SEE attractions on the island.
Before we begin – we like to remind all our customers and visitors that Fraser Island's traditional owners are The Butchulla people.  They are the original inhabitants of the island and still have a strong presence and role on "K'gari" (its traditional name) today.  They ask that 'Wanya nyin yangu, wanai djinang djaa.' 'Wherever you go, leave only footprints.'*
The Pinnacles
We will start our list off with "The Pinnacles" which refers to a stretch of sandy cliffs about a 5-minute drive north of Maheno Shipwreck.  These towering cliffs are special for their unique and vibrant colors: over hundreds of thousands of years minerals have leached through the sand and stained them in a range of different colours. The pinnacles showcase about 72 different colors ranging from dark browns, to vibrant yellows and reds. The pinnacles are a sacred site to Fraser Islands native Aboriginals: The Butchulla People.  They tell a love story about a woman named "Wuru" who was arranged to marry a man named "Winyer".  While Wuru was engaged to wed Winyer, she secretly fell in love with a multi-coloured snake named Wiberigan who she used to visit at the spot of the pinnacles every day.  One day Winyer followed her and caught her in the act of embracing the Winyer.  In an act of revenge Winyer threw his Boomerang towards Wuru but Winyer jumped in front of his lover taking the Boomerangs blow.  Winyer was smashed, his colourful body spraying the cliffs in thousands of colors and Wuru was unharmed.  The place remains an area of good luck for Butchulla Women.
Central Station
Photo credit – Instagram.com/machielderover
Next on our list is Central Station. Central is located in the heart of the Rainforest on Fraser Island and this popular site is one of the most visited places on Island.  Here you will experience a unique piece of Fraser Islands history as it was the central Forestry Department station from 1920 to 1959.  During this period, the area was settled by mainland Australians who moved to the island to part take in logging the forest.  At one point there was up 30 houses and schools built by these settlers and while this practice is no longer allowed, Central Stations outdoor museum captures many photographs, tools and explanation of the way life once was here.   Surrounding Central Station is dense rainforest known as "Pile Valley" which has thousand-year-old satinay trees, giant king ferns, kauri pines and other rare flora and fauna, some of which soar over 50 meters high.  Central Station is also home to "Wangolba Creek", a freshwater creek with crystal clear water that that runs through the station and was vital for life and survival back in the day.  Before Australian settlers Wangolba Creek was where Aborignal women came to give birth and is a sacred place on the Island.  While there is no swimming allowed in the creek today, there is a nice board walk which you can take a 10-minute stroll down to check out the creek and the surrounding forest.  Central Station has a lovely day use area which features picnic tables, communal BBQ's and covered seating areas – an excellent place to stop for lunch!  It is also one of the most popular places for camping as it is fully fenced, has toilets and gold coin operated showers. Central Station is a great stop to visit on Fraser Island and only starts our top ten list.
Maheno Shipwreck
Photo credit – Instagram.com/snappertink
Fraser Island has been the graveyard to many ships over the years with 25 officially recorded.  The most famous of all is the "SS Maheno" whose skeleton remains on the beach of Fraser Island today.  Thousands of visitors come every year to pay their respects and take photos of the iron landmark.  The SS Maheno was built in 1905 and was used as a passenger cruise ship on her regular route between Sydney and Auckland for about 30 years and then later she was commissioned as a hospital ship in Europe during world war one. After her long and profitable service, she was set to retire and was sold to a Japanese company to be scrapped for metal.  In her final journey from Melbourne to Japan a cyclone hit, and the boat was separated from the tugboat in front that was towing her.  She eventually ran adrift on shore of Fraser Island.  Luckily, none of the 8-man crew were injured but unfortunately the several attempts to refloat the ship were unsuccessful and she remains to this day on the Island. Be aware due to the deterioration of the ship there is no getting closer than 2m and climbing on the ship is prohibited – you would definitely cut yourself if you attempted to climb the ship.   Maheno shipwreck makes a good stop and a photo op as your travel up 75 mile beach!
Lake Allom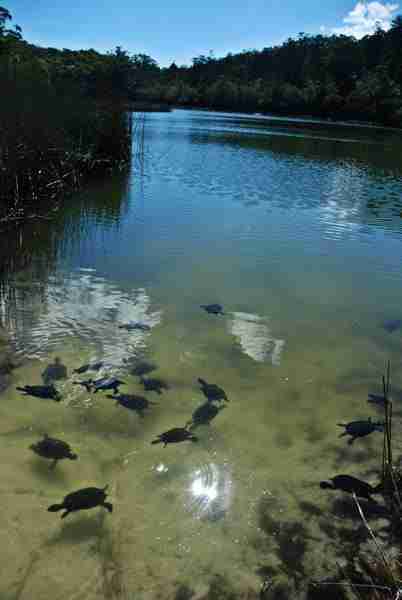 Photo credit: https://www.travelblog.org/Oceania/Australia/Queensland/Fraser-Island/blog-162278.html
Lake Allom is a freshwater lake, located about 45 minutes inland from Maheno Shipwreck on "Worolie Road".  Be prepared for an adventure – this road is one of the more difficult tracks we allow our customers to go on – be prepared for lots of bumps but we promise the destination is worth the drive! The lake itself is a reddish brown color, almost the color of steeped tea.  This lake gets its color from the tannins of the melaleuca trees whose leaves are constantly dropping into it. Once you've parked, make sure you walk up as quietly as you can to the lakes viewing platform, so you don't scare away its in habitants!  Once you reach the platform you look around the water's edge to see lots of tiny freshwater turtles! These curious creatures will be sunbathing on the platform or popping their little heads up for a breath of fresh air. Feeding them is strictly prohibited and make sure if you swim in the lake that you have no sunscreen or repellants on your body as this habitat is sensitive.  This unique lake exhibits the wide range of the animals that occupy Fraser Island and puts it in the top seven of our list.
Indian Head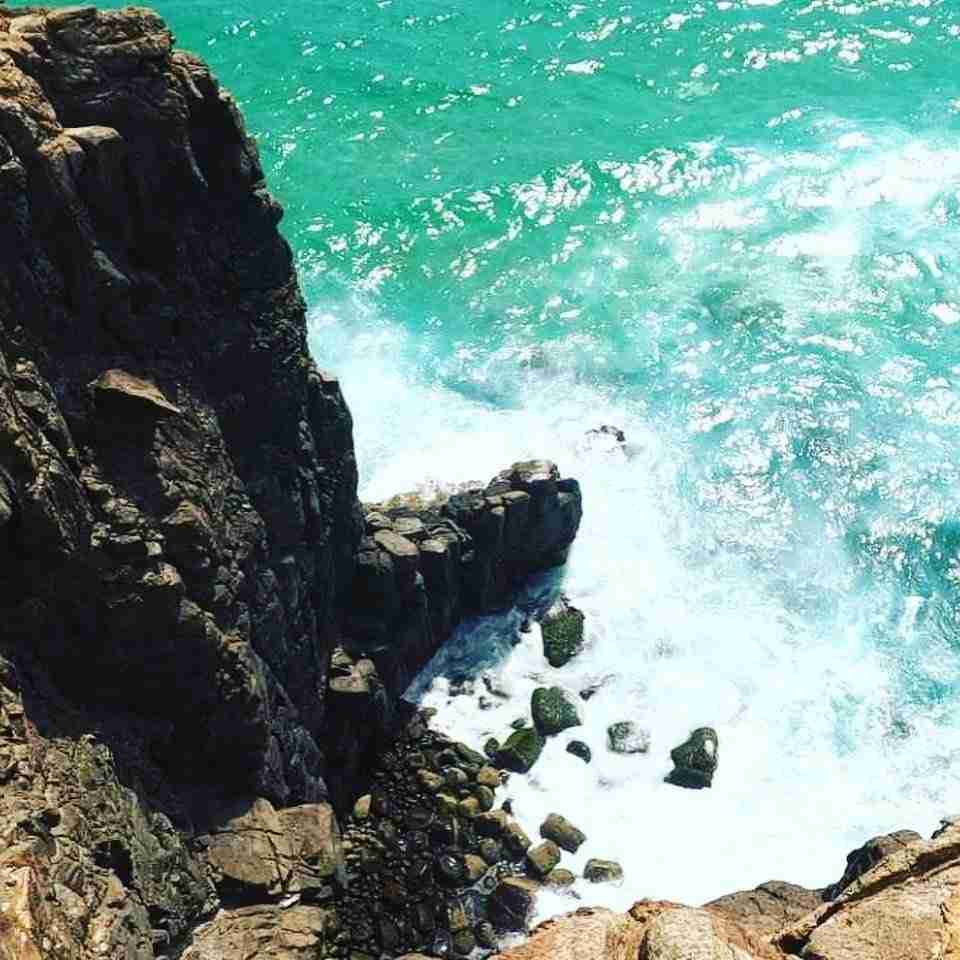 Photo credit – Instagram.com/brandon_wisse 
Indian head is an elevated lookout made up of volcanic rock that formed millions of years ago. It sits on top of the most Easterly point on Fraser Island, and from up here you get panoramic views of the entire Island.  This headland is about a 2.5-hour drive North from where you land off the ferry at Hook Point. It is accessible only by 4WD and after parking on the beach at bottom of the headland it is about a 10 -15 minute walk uphill walk to get to the look out.  Once at the top – glance to your right for views of 75 mile beach all the way back to Rainbow Beach and Inskip Point.  Now look to your left and you have views towards the North of the Island heading towards Waddy Point.  And finally, look down – the crystal-clear ocean hundreds of feet below give you the perfect vantage point to spot wildlife such as dolphins, turtles, manta rays, eagle rays, sharks and when in season WHALES.  We love sending our customers up here to witness the breath taking breaching of the humpback whale, during the right time you can spot dozens from up here.  Historically it was said that Indian Head received its name from Captain Cook as he sailed past and saw Aboriginals standing on the point (very creative Captain Cook!)  Even if you see no wildlife at all, the viewpoint is breathtaking and should be included on every itinerary.
Eli Creek
Photo credit: https://www.instagram.com/campmore_worryless/
Eli Creek is a freshwater creek on the Eastern Side of Fraser Island that runs from inland out onto the beach and finally into the ocean.  Now I'm sure you're wondering what the big deal is as there are hundreds of freshwater creeks that run off of Fraser – but Eli is a bit special.  This is the largest creek on the Island by far and spills out 4 million liters of fresh water every hour into the ocean.  Not only is it the largest on Fraser Island, it is also the purest.  The water flows from a spring deep in the water table and has taken over 100 years to get filtered through the sand.  It is so pure that that the water is drinkable without treatment and is a popular place to fill up water bottles (just make sure you fill them from the top of the stream!)
Eli is an extremely popular spot for a refreshing swim and a nice place to cool down after a long hot day on Fraser.   There is a lovely wooden boardwalk that you can walk along to get to the top of the creek and then float all the way back down follow the natural flow of the water.  The water here is never more then waste deep, with lots of spots even shallower so it is nice to bring some sort of floaty with you to cruise down the creek on!
Lake McKenzie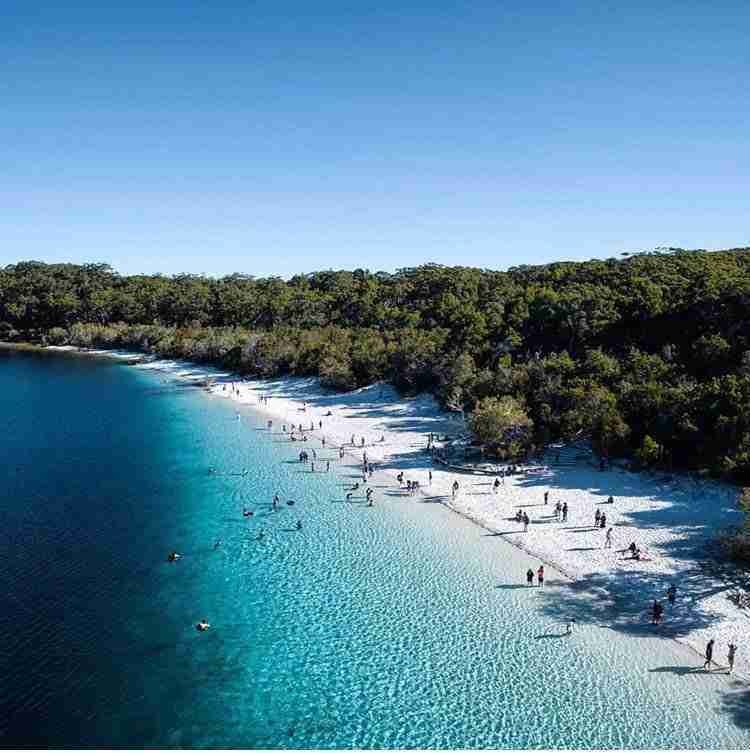 Photo credit: www.instagram.com/snapair/
Lake McKenzie is probably the most famous on our list and you have probably heard its name associated with Fraser Island before.  This freshwater lake is located a 1 hour drive inland from Eurong and is a definite must see!  Lake McKenzie features incredibly soft white sand so fine it squeaks when you walk on it and crystal clear blue water. The lake's water is so clear it feels like being at swimming pool rather than in the middle of Fraser Island.  This swimming pool effect is because McKenzie is actually a perched lake, meaning it is only filled with rainwater and is not fed by streams or creeks. Organic matter such as leaves and dirt collects at the bottom of the lake and acts as a basin – giving McKenzie that crystal clear blue water from rain.  The Butchulla people believe Fraser Island was created when the goddess K'gari was transformed into the Island. "Boorangoora" or what we call Lake McKenzie is said to be one of her eyes.  While the Lake is stunning and probably the most beautiful spot on our list – it can be very crowded with tourists – especially around lunch time with tour buses and tag along tours.  We'll definitely include it on your itinerary but recommend going first thing in the morning or late in the afternoon to avoid the crowds, which is the only thing stopping it from being no. 1.
Champagne Pools
Photo credit: https://www.instagram.com/moynul27/
Reaching our TOP THREE of our list is Champagne Pools! Champagne Pools is located on the Northern end of the Island about a 10 minute drive north from Indian Head.  The pools are a naturally created rock formation from the same volcano that formed Indian Head millions of years ago.  The rocks have been constantly pounded by waves for years after years after years which have slowly eroded away the rocks creating naturally formed pools within them. The Champagne part of its name is derived from when the waves hit the rocks and splash over it creates a bubble like effect – just like Champagne!
We normally like to send our customers to champagne pools as an entire day trip – pack everything you would need for a day at the beach- there is no shade here!  Ideally its best to travel to the pools during low tide and get locked in as the tide starts to come in.  Hightide at the pools is ideal as they fill up with water and you can swim in them!  At low tide the pools are still pretty but the water is only ankle deep. As it is a popular tourist spot as well the pools also start to clear out during high tide as most tour buses and groups will make the most of the tides for travelling.
Champagne Pools natural beauty and the possibility of having it less crowded then other spots puts it at our top three MUST SEE for your time on Fraser Island!
Lake Birrabeen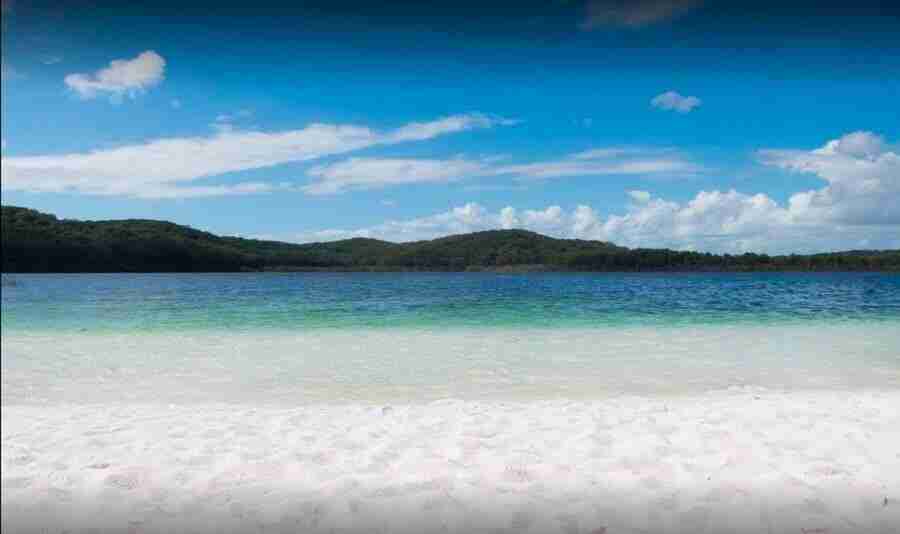 Photo credit – https://www.discoverherveybay.com/lake-birrabeen/
We faced a tough decision for the number two and number one spots on Fraser Island, and so after careful consideration we have placed the beautiful Lake Birrabeen second.  Lake Birrabeen is one of the few lakes on the island that still has it traditional name from the Butchulla people.  This lake is located on the "Southern Lake Scenic drive" and is accessible either 1. Going inland from Eurong to Central station then from there taking the scenic drive south to Birrabeen or 2. Going inland at Dilli Village and heading north along the scenic drive up to Birrabeen.  This Lake is remarkably similar to Lake McKenzie – it's a perched lake and has the same silica white sand and crystal blue water giving it a swimming pool effect.  However, the reason its beat McKenzie for our top spot is it is not as touristy or crowded. Lake Birrabeen is slightly more difficult to get to then McKenzie and hardly any tour groups or buses come here! This makes this lake far more enjoyable then a crowded Lake McKenzie any day and our customers often have it to themselves.  All these reasons give Lake Birrabeen our second spot on our Fraser Island MUST SEE list!
Lake Wabby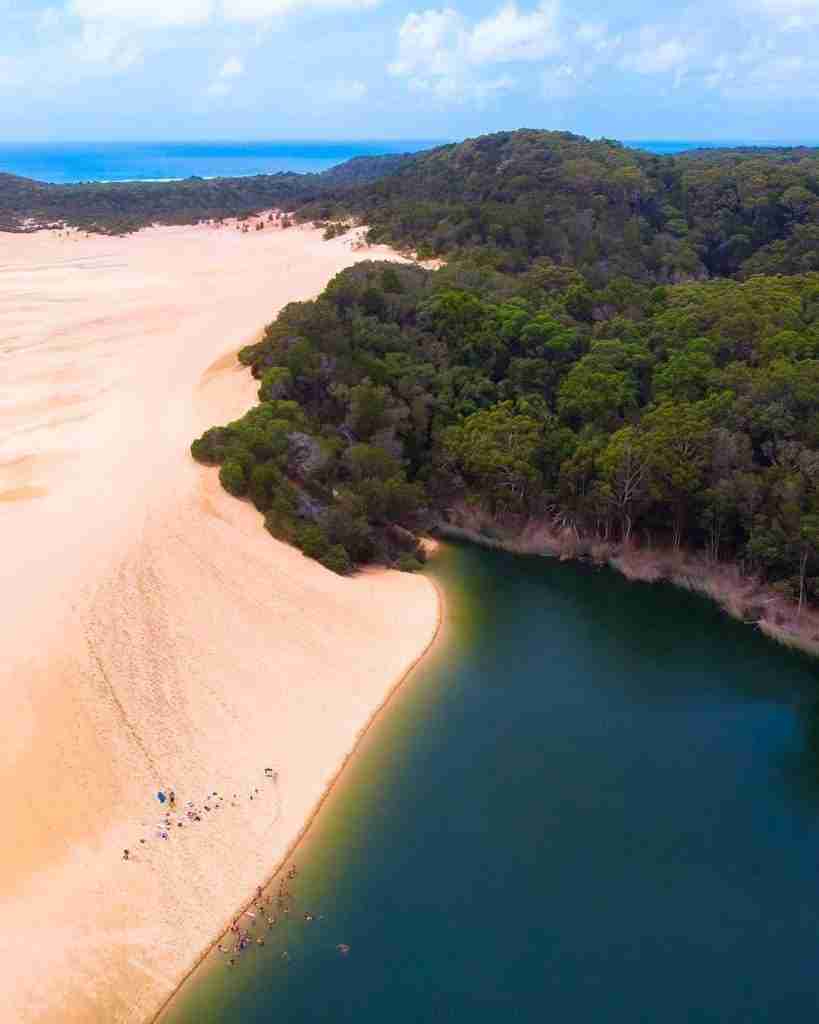 Photo credit: https://www.instagram.com/queensland
Drum roll please! Taking the number one spot on our countdown is Lake Wabby! This was a tough call and perhaps a bit controversial, but we all agreed our personal favorite spot to visit on the Island was this lake.  Lake Wabby is the deepest lake on Fraser Island, reaching 11.4 meters. It has an almost 45 degree angle drop off, just a few steps in and the water is well above your head.  Its water is a deep dark green and makes a stark contrast with the sand that surrounds it. Lake Wabby is surrounded by the Hammerstone Sandblow and slowly year by year is being filled with the sand from the blow, which means eventually the entire lake will be filled in and won't exist anymore, so you better hurry!  (Just kidding, scientists project this will take hundreds to thousands of years) Unlike McKenzie, or many of the other freshwater Lakes on the island, Lake Wabby has an active fish presence with 12 species living in its waters! There are two ways to get to Wabby – park on the beach and take the 2.4km hike through the bush (roughly 45 minutes) or else you can drive into Cornwells track to reach the Lake Wabby Lookout.  Park the vehicle here, walk to the lookout and then from the look out it is only a 1.5km walk to the lake.
There you have it our top 10 list of the MUST SEE's on Fraser Island.  You'll have to let us know if you agree once you see them all for yourself to!
Happy adventuring.
Rainbow Beach 4×4 Hire
Make sure you contact us directly for special pricing and rates and to receive a competitive quote!
Instagram.com/rainbowbeach4x4hire
www.rainbowbeach4x4hire.com.au
07 5486 8300